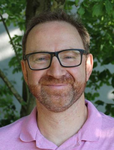 EDER Andreas B.
MOVE Lab, Department of Psychology, JMU Wuerzburg, Wuerzburg, Germany
Social sciences
recommender
Recommendations:
0
Reviews:
0
Educational and work
Andreas Eder is full professor for Psychology at the Julius-Maximilians University of Würzburg in Germany. His main research interests are the emotional and motivational controls of goal-directed actions with a focus on approach-avoidance orientations and aggression. In 2008, he received the prestigious Heinz-Heckhausen Young Scientist Prize from the German Psychological Society (DGPs). His research has been supported by several research grants from the German Research Foundation (DFG). He joined the board of several scientific journals (e.g., PLOS ONE). Current positions are: associate editor of the journal Cognition and Emotion and editor-in-chief of the journal Experimental Psychology.